10:06 Mid Monday Morning (3 November 2008)
&nbsp Protecting the Blogosphere
if my capitalisation is sporadic, blame this keyboard. I love my XO but the keyboard needs some definite help. I'm aware it is designed for children, but it sucks that the connectivity on some of the letters is much slower than the connectivity of other letters. Take o, for example. it's ridiculously slow compared to, say, m. every time i want to type something like something, I get 'smoething.' and the shift key is really shitty, each one has a few keys that it nearly refuses to shift when held.
ugh.
other than that, this is a fine machine. those are my only complaints, and for the use it was designed for (teaching children and aiding learning and education), it's probably good enough. but when i'm trying to type notes in class, it really slows me down when i hve to go back and erase a sentence. oh and it sucks when the ctrl key gets stuck and every time i press a, everything is selected and then subsequently replaced with whatever i typed after a. haha, it just happened. thank god for ctrl z...
sometimes it's not so fast though and i sit there frustratedly for a minute in lecture while i wait for ctrl z to bring back my last two months worth of notes.
oiy.
enough complaining about the goddamn keyboard.
i'll type the rest of this entry without the backspace key, just for kicks.
so, the weekend was truly awesmoe. Rocky Horror party on Friday night plus candy plus friends plus Hailey's horrible hair (haha) (she raelly did look a lot like magenta though) = awesmoe times.
Then Satudray was the cuddlefish comedy club, which was fairly amusing given the amateur status of our comedians! maybe i'm just biased because i'm friends wiht James and every one of the comedians went to my high school and they wer eactually decent people whom i didn't hae any raesno to dislike, haha.
whatever, it was totally funny.
then after cuddlefish we went to some party, it involved a lot of dancing. when there's dancing involved i don't drink because i prefer to dance sober thankyouverymuch.
i danced like the hot puprle octopus i was. yay.
like, 30 or 40 people showe up and it was crayz...i'm used to parties of 16 or less.
but it was cool ; i met smoe ne wpeople and had a graet time and ate lotsof carots wiht hummus.
then i got home and crashed and wokeup late on sunday morning...but i twasn't raely that late because of daylight savings time ending!
And i made sara a purse out of a shirt and polkadot material i found in my fabric box. but i messed i tup so i can't give ti to her yte, heh.
then i actually did smoe homework. oh y gosh. that was the most remarkable part of y weekend, to be honest.
it feels weird, now, being monday morning and i'm not frantically trying to get stuff done becaus ei'ts already done.
andddd it's finally col doutside. hooray for autumn!
heh. i'm glad i use the backspace button in cass because if i tried to raed my notes over with this typing, i'd go crazy.
i do like that the computer is lime green, though. have a photo: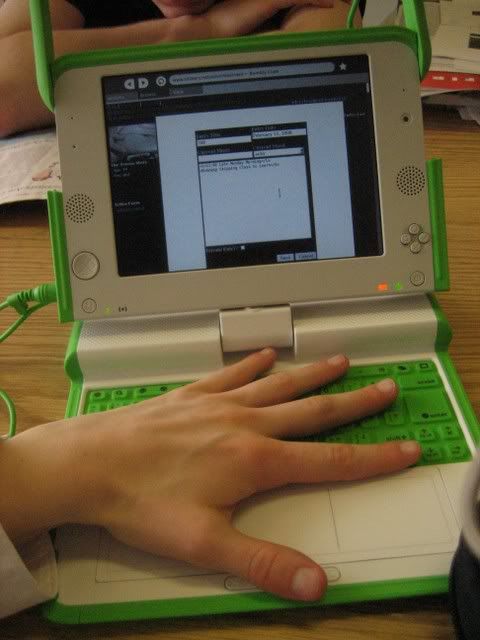 sigh.