Listening to:
Strawpeople
4:41 Late Monday Afternoon
&nbsp Mind Numbing, Note Taking
Saturday,
oh I cannot even begin to describe.
I had breakfast with Jeff, which was totally random yet awesome. He made scone nuggets and I made pancrepes (too thin to be pancakes, too thick to be crepes). He and his roommates were all in the process of moving out so everything was a mess but those were some deliciously unhealthy scone nuggets and pancrepes.
Then Jeff and I hopped into his jeep and drove down to his mom's house to drop some stuff off and then we went to the train station.
I learned a lot about this kid
and how the MTC simultaneously ruined him and yet was the one of the best things that ever happened to him.
The train was sooooo cool! it was basically silent, and the ride was so smooth that if it hadn't been for the changing view out the window, I would have wondered if we were moving at all.
The Red Hat ladies were having a party, i guess, there were a bunch of red-hat, purple-dress clad women getting on the train.
Jeff and I split up once we got to the city,
he did his thing, I found my way to the mall and met up with Sara.
Even though we didn't actually want to spend that much time at the mall, we ended up spending much of the day there. After bothering Kellie at work, we checked out the clearance stuff at Hot Topic -- I thought it would be all the same stuff but I guess in the city, they have more room to stock more "crude" items. all the crap at our Hot Topic is like, Hello Kitty and whatnot. All of what is at Hot Topic is "alternative" trendy, but they occasionally have good deals on make up so I check anyway.
Random store associate came up to us and said "i noticed you were admiring the hamburger phone" (yes, they raped Juno's hamburger phone). and started up a conversation. i couldn't tell if he was flirting or trying to sell shit. He kept looking me straight in the eyes and saying "whatever you need, just let me know..." Ordinarily I would have thought selling, but...all the other people in the store without their pet associates? And he said other things that just seemed creepy at the time but I can't remember them exactly. So we high tailed it outta there once we'd determined there was no good makeup on sale.
Then we went to Claire's and...well...
never again.
But Sara got a cute little Tinkerbell purse with a gift card that she got for her birthday.
Then we were GOING to leave but I wanted to see the body exhibit at the discovery centre. Apparently it cost money but we still got to check out "the beehive" and the other kiddie play areas. Then we went to the discovery shop and played with the toys in there and I ended up buying sour-cream-and-chives flavoured crickets and some mad libs books for the train ride home.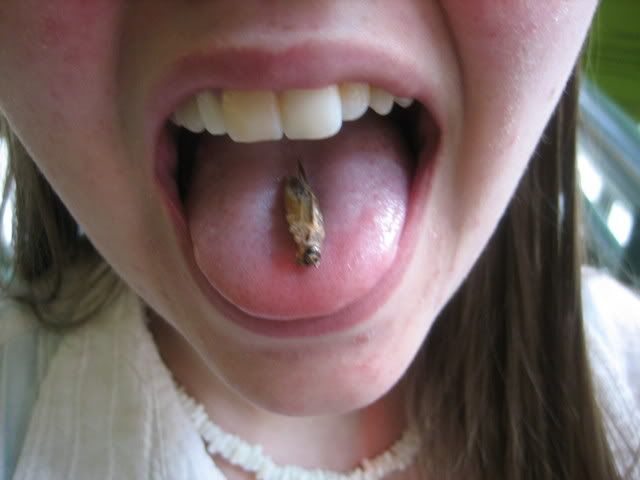 then we ATE the crickets, it was so awesome.
i still have some left.
On our way out of the mall, we heard a little kid whining to his mom about wanting ice cream, so we went into the ice cream shop and I traumatised the man at the counter. I then bought a scoop of bubblegum for Sara and mint choc chip for me.
then we wandered around downtown, found our way into that little side street w/ Sam Weller's book store and the City Weekly office. then we took the tram to the library and I bought a custard flavoured bubble tea that was actually captain crunch flavoured. amazing.
i love bubble tea hardcore.
Then Sara went home and I went back to Sam Weller's and read a book until Kellie called me. we went to Mazza and had yummy Lebanese dinner and discussed our sisters and life in general. it was amazing.
Jeff and I met up at the grand central station and took the train back to the car. we played madlibs and it was ridiculously fun
here's my favourite one that we did:
Super-Chickens (from Diva Girl Mad Libs)
"One of my favorite shows on TV is Super-Chickens. It's about three chickens who all have frivolous superpowers. One of them can burp, another one can shoot trains from her medulla oblongata, and the third one can tiptoe with emergency exits. The Super-Chickens use their powers to protect the horrendous people of the desert and defeat the powers of cacti. My favorite episode is when their father was kidnapped by the evil electrical engineer, Mr. Scrumptulescent, and they had to fly to the kitchen to rescue him. In another episode, the Chicks had to fight a villain who was made out of hooligans. The show is so cool that I even bought a gargantuan Super-Chickens T-shirt and a watch that says "giggity-giggity-goo to the rescue - Super-Chickens!" when you procreate a button."
....amazing.
simply fabulous.
best day in a long time.
Sunday was pretty good too; Sunday School was kind of blah, but the sermon was great. Then I went birthday shopping for Dad, got home, hung around outside, went on a litter-walk with Emily and found some gross and some really interesting rubbish. ...mostly gross. then we picked through it at the recycling centre. we found a plaster head in the dumpster and i stole it.
then i went home and we went out to eat and terrorised our server. poor guy. then we went home and ate cake and ice cream and watched Dad open his gifts.
it was a marvelous weekend. and today i worked for 6 hours and had a very boring afternoon. :)
this entry is ridiculously long but i love it even more so because of it.